Yarn bombing has really caught on across the country. In addition to the four yarn bombings with which I've been involved this year. I love the whimsical quality of much street art. It's an art to make one smile. A few years ago I led a street art workshop that involved a mixed media approach. It was part of Intuit's Visionary Craft series. The workshop was only two hours long and involved children and adults. Everyone loved it! So easy to do and has proven to withstand rain and wind!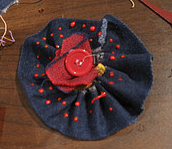 Materials:
Aleene's® Fabric Fusion® Peel and Stick Sheets™
Duck® Brand Duct Tape
assorted fabric cut in strips or other shapes
crafting felt
ribbon
colorful wire
yarn
assorted buttons
assorted sequins
fabric paint
scissors
Let's Create!
Cut 2" circles from the Fabric Fusion® Peel and Stick Sheets™. Peel the backing from one side of your first circle.
Push one end of the fabric strip or ribbon it onto the middle of your circle and wind the ribbon / fabric strip around in a sprial fashion, pushing down firmly onto the circle as you go. Trim any excess.
Cut a 1/2" or so sized circle from the Fabric Fusion® scraps. Peel one side and stick to the middle of your larger circle. Peel the other side and push a button into place. Decorate with fabric paint if desired.
Proceed to make more flowers until you have used all your circles. Experiment. Cut flower petals from felt, layering them in place.
Cut a 4" circle of fabric, fringe the edges and stick to your 2" Fabric Fusion® circle. Use the scraps to creat layers.
There are so many possibilities!
One boy didn't enjoy making flowers. That was kid stuff (his younger sister was making them.), so he became our Leaf Man!
To make a leaf, tear off a 7" strip of duct tape. Fold in half leaving 1/2" still exposed. Cut into a leaf shape with scissors. Make several dozen.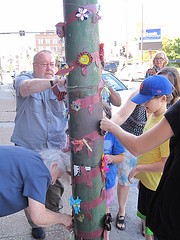 Wind the tape around a light pole or other street sign pole.
Stick your leaf shape into place.
Peel off the backing of your flower and stick into place.
So totally awesome!
Thank you to Carol Ng-He and everyone at Intuit: The Center for Intuitive and Outsider Art for initiating this workshop and of course to all the participants. We made one very colorful light pole which lasted for 4 months before it was in tatters and needed to be removed.
Check out the video to see a review of other street art I've been involved in designing and leading. Lots of good times.